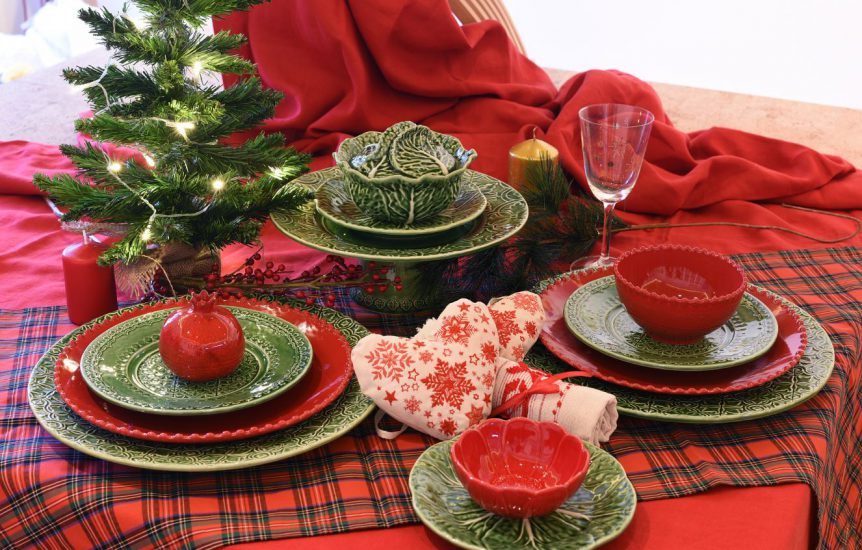 The lights and Christmas decorations, which can be seen all over the place, remind us daily that we are getting close to the day we will gather our family around the table to celebrate Christmas. But more than a period of consumerism, Christmas is the time of family unity, sharing stories, affection, closeness and invariably a good meal. The Christmas dinner is much more than just food, it is also the commitment of setting up a table in the proper manner to welcome our families. So, tablecloth, crockery and cutlery, which in many cases only come out of the cabinets at this time of year, are not lacking when it comes to celebrating the family and the abundance of good things.
It's time to look at your Christmas table setting and, this year, try to surprise your family with different table decorations; one of traditional inspiration or, maybe, one that marvels everybody by being ideas out of the box, but also very welcoming.
It all depends on the feelings you want to evoke. As an example, green and red convey a sense of traditional and rustic warmth. The colour combinations help create the desired ambience, however, the chosen tablecloth can also be a good starting point for decoration worthy of this season. Mar d'Estórias suggests a single colour tablecloth to make it easier to balance the rest of the decor. It can be complemented with a table runner in a pattern of the same colour, with the rest of the details in mind so that it does not overwhelm the final ornamentation. We present a more traditional decoration where Bordallo Pinheiro, an important brand in our grandparents' day, is highlighted. Details such as pomegranates, holly, warm candle aromas and the traditional Christmas tree complete and exalt the spirit of this time.
The following decoration suggestion presents a touch of sophistication and contemporaneity in the colours white, black and gold. It is not a traditional Christmas table, but it will delight your family. The neutral sets are finished with a fine gold line on the edge that gives them elegance and sobriety. At this holiday table setting, the details add value to the story, with the golden candles and the Christmas pine in ceramic, to convey the same authenticity of yesteryear.
1. Cricket – Laboratório d' Estórias – 67.50€
2. Jar (1,65Lt) – Costa Nova – 22€
3. Cylindrical jar (large)– Costa Nova – 27.50€
4. Cylindrical jar (small)– Costa Nova – 21€
5. Shallow plate – Vista Alegre – 10.90€
6. Market plate – Costa Nova – 36.50€
7. Dinner plate white (27cm) – Costa Nova – 9.50€
8. Placemat – Mapy – 9.90€
9. Soup bowl (15cm) – Costa Nova – 9€
10. Naso – Dedal – 12€
11. Tablecloth (175×310) – Costa Nova (100% linen) – 185€
12. Ceramic pine cone – Laboratório d' Estórias – 27€
13 Jar (0,5lt) – Costa Nova – 12€
From tradition to modernity, in a genial retrofit of Vista Alegre (Casa Alegre collection) that has always accompanied the life of previous generations, we present to you our third suggestion. The use of pale rose instead of red, combined with copper and gold tones, turns the typical Christmas table into a lighter, but equally festive and modern one.
1. Tea cup – Vista Alegre – 8.10€
2. Cup – Vista Alegre – 7.30€
3. Tea cup – Vista Alegre – 5.10€
4. Plate – Vista Alegre – 8.60€
5. Platter – Vista Alegre – 6.10€
6. Platter / Plate – Vista Alegre – 20€
7. Deep plate – Vista Alegre – 11.30€
8. Bowl – Vista Alegre – 8.10€
9. Shallow plate – Vista Alegre – 8.50€
10. Platter – Vista Alegre – 40€
11. Wine glass – Ritzenhoff with Ângela Ladeiro design – 21.10€
12. Tablecloth (175×310) – Costa Nova (100% linen) – 185€
The typical delicacies that are already part of the celebrations of this season, identities of the Portuguese tradition, are now enjoyed with the same feeling of union, in the use of pieces of national and contemporary brands. These are tips to make your Christmas even more special, keeping it authentic, familiar and with strong iconic links to Portuguese culture.