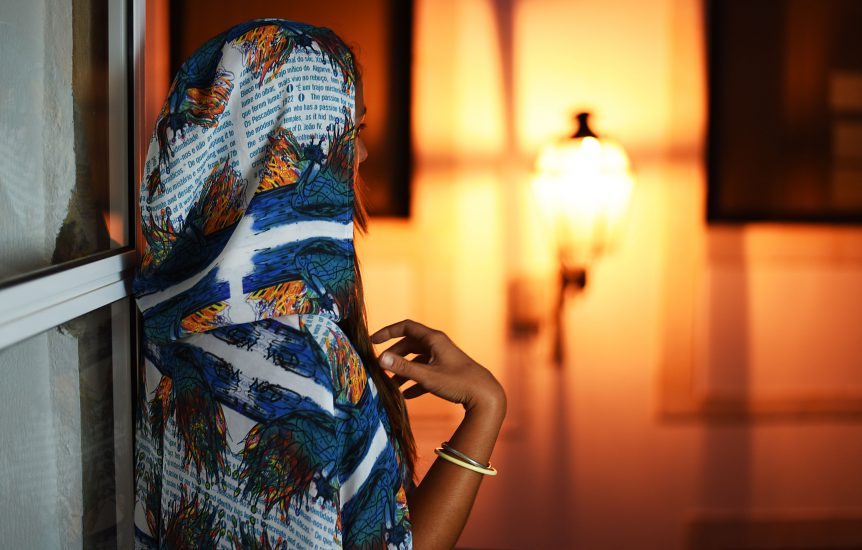 To get dressed, in a time that opposes today's freedom, was not only a question of aesthetic and functionality. The garment was a representation of tradition, a language shaped in the ways clothes were worn. And there was always a political and religious sense behind it.
Due to an Era of a mainly Cristian and conservative Portugal, the costume "bioco" (a female cloak) would cover the women from top to bottom, giving them a sort of freedom to walk around the streets, since it would make them unrecognizable and unidentified.
Reaching the end of nineteenth century, this Algarve "burka" «that could hide one's identity» ended up by being forbidden, which represented a threat to women's already frail freedom, because without the cloak covering their figure and face, they couldn't leave the house without a chaperone.
Because of the stories and indelible memories of one of the most charismatic Algarve costume, the entrepreneur Lurdes Silva has decided to recreate this piece, by adding a fresh design and adapting it to the contemporary and passionate woman of modern society. By wearing a "Bioco" piece, women are wearing history and tradition above all.
However, it's more than that: the story is literally told in the fabric of the costumes. In the lining of the "Bioco" as for the Winter collection and on the outside for the Summer collection, little pieces of Portuguese history are inscribed in the shape of verses from the Portuguese poet Raul Brandão, who alludes to mystery and woman's sensuality. («Whose are those eyes that hurt us like fire?»)
In a Portuguese project like this, with special emphasis on the Algarve region, we had to have a showcase to exhibit these traditional although very trendy costumes, recreated to be unique pieces of original design, adapted to the contemporary woman and available on summer and winter versions. It is case to say that more stories like these are a positive addition to our infinite Sea (of stories).
Find the products in our online store: