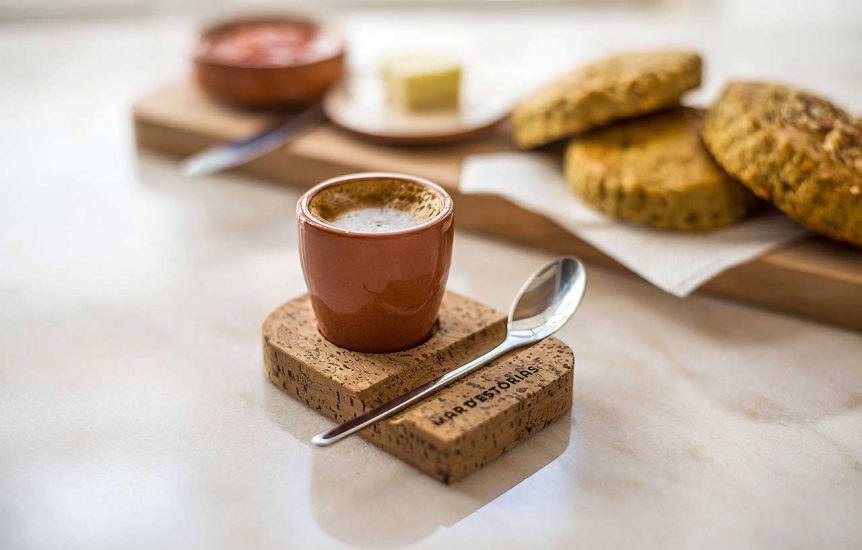 Since the initial conception of Mar d'Estórias we identified the importance of performing and acting with responsibility, sentiment and vision.

The necessity of adding value to the best of Portugal, by adapting traditional techniques to contemporaneity and making use of genuinely Portuguese materials, is what drives us daily in this project that now opens its doors and is everyone's and for everyone.
At Mar d'Estórias we gambled on a range of products with our own brand name, conceived to fulfil the requirements of modernity, simplicity and sustainability. From home decor, holiday products and kitchen utensils, the Mar d'Estórias collection of products offer a theme when experiencing the location and allow a profound knowledge of the culture.
Therefore, when ordering a coffee, the client is not only drinking the so appreciated creamy expresso. At Mar d'Estórias, drinking a coffee provides an experience behind the design and materiality of the product itself. A cup made of clay and a saucer made of cork will draw you closer to the local materials and the inspiration in Portuguese culture. The products such as the coffee cups and lamps used at the Mar d'Estórias cafeteria are also available for sale. The idea is to generate a natural internal rotation.
The incredible contribution of The Home Project Design Studio conveyed a solid and coherent development to the brand and particularly in defining the collection of the own brand products to be integrated into the Mar d'Estórias space and experience.
Due to the importance of adding to Portuguese culture some local handicrafts, with the least environmental impact possible, came the possibility of funding a scholarship for a student at the Faro Design School who will develop, along with other craftsmen, custom made products for Mar d'Estórias and, of course, for you.