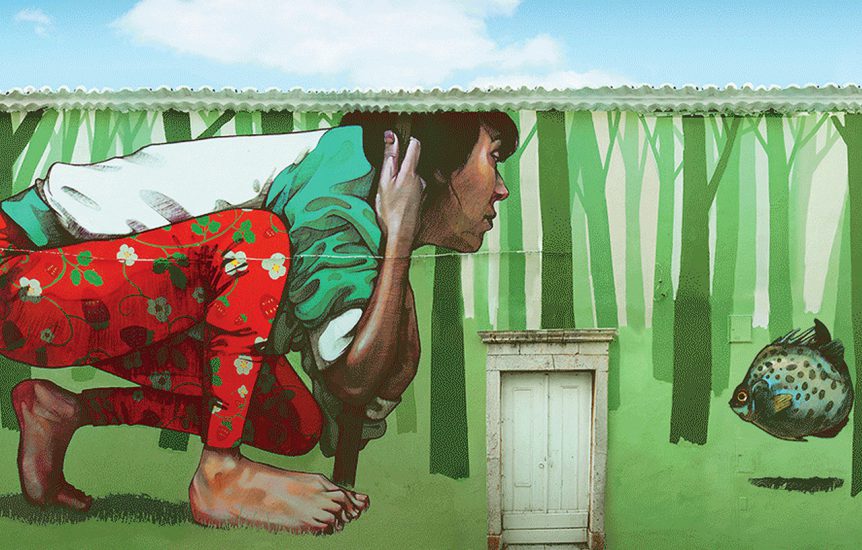 The historical weight and cultural wealth of Lagos are now complemented with the outstanding presence of urban art, that at every turn in the streets, surprises and makes people constantly talk about it.
An initiative of LAC – Laboratory of Creative Arts of Lagos (www.lac.org.pt), "Arturb" is a project that brought together the artistic expressions of several personalities in the world art scene, giving place to an open air exhibition in and around the centre of Lagos. The genre of art on tour enables an exchange of ideas, introduction of new concepts and the confrontation of cultural and aesthetic realities.
Due to this initiative, which has occurred annually since 2011, the lateral wall of the Mar d'Estórias building was the canvas of a graffiti drawn by the Polish artist Bezt, during the third edition of the urban art festival in Lagos (2013). The representation of the female figure in natural environments, so characteristic of the artist, is projected as a wide shot on the Rua Lançarote de Freitas facade. A crouching woman in a rural setting appears barefoot and seems to be peeking curiously at something reduced to a lower level. The small and resuscitated door of the building interacts with the woman and with the small brightly coloured puffer fish, also part of the mural.
The quality of the art that can be contemplated and taken in from some of the murals in Lagos draws people closer to the city, to contemporary urban art and the monuments, many unoccupied, abandoned and neglected, that are now reborn with new meaning.
The existence of a city trail that reflects the work of artists selected by their individual talent and the collective experience they develop around the world, is added value for Lagos and will hopefully push aside the idea that the city is resumed to sun and sea. One thing is certain: LAC, situated in what used to be the Lagos jail on the outskirts of the old town, is now recognised and well identified with renewed value; and the monuments that no one bothered to set eyes on before, are now centre stage for prolonged and attentive viewing.
The artistic signature of names such as Mário Belém, ROA, Alias, Sepe, Bezt, Onur and Samina imprinted colour and meaning to Lagos' facades, revived the cities aura and inspired (and inspires) daily passers-by from all over the world.
But it is time now to focus the attention on the artists of ARTURb'2016 edition, that are ready to inscribe their artistic marks on a big scale in some of Lagos' buildings. From these names: Thir and Mots (Portugal), M-City (Poland), Daan Botlek (Netherlands) and Andres Gjennestad (Norway), you can expect the best of urban art represented in the city, from now on.