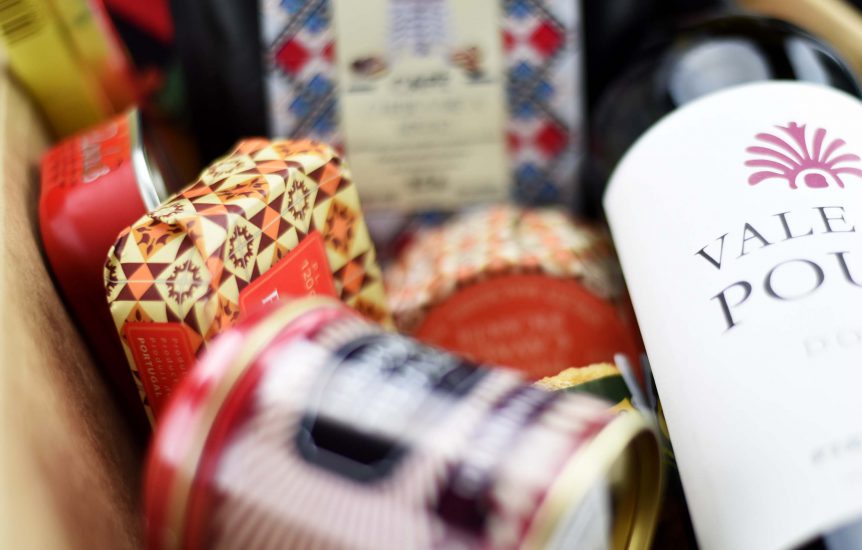 In a time of year when simple yet essential values are paramount, such as love, the act of sharing, joy, hospitality and unions, you should start thinking of your employees and their work throughout the year.
We all know companies are not only made of work: joy, contentment and gratification boost the individual motivation of employees as well as their team spirit.
It was with this in mind that our shop collaborators put together these Christmas hampers, which are made up of a unique variety of Portuguese products, so that you can wish a sincere "Merry Christmas" to the ones responsible for keeping up the expected level of your company.
There are eight Christmas hampers available, different compositions of extremely well select products, that represent what is best made in Portugal.
If a fruity Alentejano red wine and a bottle of Dow's Porto are married up with a Monchique sausage, a jar of natural salt crystals with herbs ("SalMarim"), a tin of spicy tuna pâté and chocolates from the "Grand Chocolatier House", an ideal accompaniment to coffee, the result is outstanding. You'll be hard pressed to find anything better. And that's exactly what we are hoping for.
Another example of one of the Christmas hampers available is made up with items that range from a Bordallo Pinheiro mug, a milk chocolate bar with almonds, 100% Portuguese extra virgin olive oil, to Alentejo organic wine "ART.TERRA", the famous "Paupério" cookies and biscuits and much more. Products such as coffee, tea, honey, marmalade, cheese and other delicacies, all being Portuguese brands, are part of the range of products contemplated in the hampers.
So, don't miss out on shopping for your Christmas presents at Mar d'Estórias because Christmas is all about harmony and what better way to spread the harmony than to buy Portuguese, to make a safe bet on the unique quality of Portuguese manufacturing and production.
Also know that you can choose to personalize your own hamper, within a range of Portuguese products available, meaning you don't need to purchase the compositions we had put together.
Check below the list of Christmas hampers, with a breakdown of the products included as well as the prices.