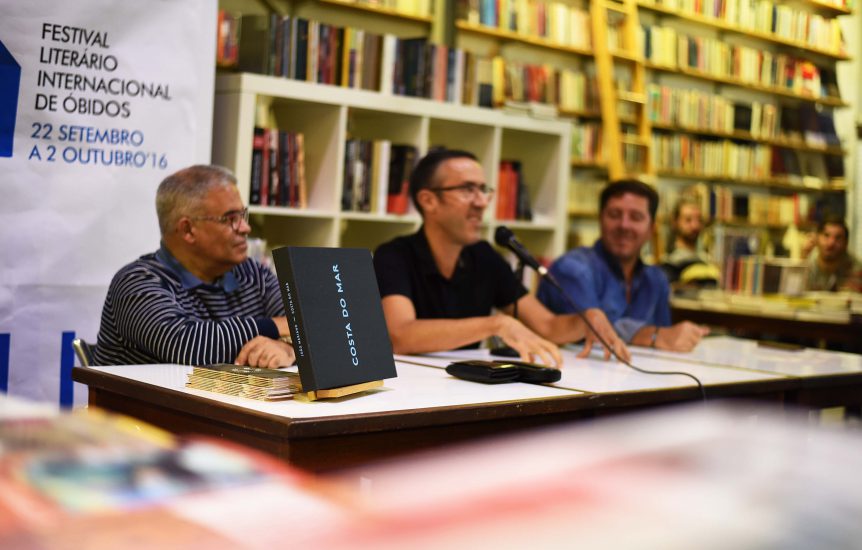 This bookshop, "Ler Devagar", founded in 1846, was an old factory for printing newspapers, with its headquarters in the well-known cultural industrial hubs of today's LX factory. 
Is in that iconic space, house for countless books, that takes place the presentation of the photobook "Costa do Mar", from the photograph and designer João Mariano, and edited by Mar d'Estórias.
The space runs normally and clients flow as usual, flicking through the books or seated in a corner of the iconic room, having a drink and often merging into the smoke screen.
In the table where a thick specimen of "Costa do Mar" lies, we can find the author João Mariano in the center; Luís Ledo, responsible for Mar d'Estórias, on the left, and Rui Prata, founder of Image Encounters, on the right.
After a brief presentation of the project Mar d'Estórias, editor for "Costa do Mar", where Luís Ledo had the chance to exhibit some of the main connecting links to the author and some details concerning the identity of the brand, it was time for Rui Prata to make some considerations on the artist João Mariano, the long years of working together and the dedication to a project that overtakes all the previous editions.
It was then the moment for João Mariano to assume the speech, where started to thank everyone for the two years' project that couldn't be true if not for the whole team involved.
Answering the big question "Why this photobook?", the author ended by explaining that due to sold out books, people would keep asking for new editions. Acknowledged of the great «emotional charge» behind the photographic work and recognising that looking to the same work wouldn't be in the same way afterwards, it came the moment of making «a great album, a synthesis album [of previous editions]».
It was in such a relaxed atmosphere and emblematic space that the event occurred, showing to people a great work developed by a great author. Not being just a photobook, this is a special, ambitious project, but also a legacy, honouring all the author's previous editions. The name "Costa do Mar" is an expression used by the old people from the region, when referring to the littoral zone.