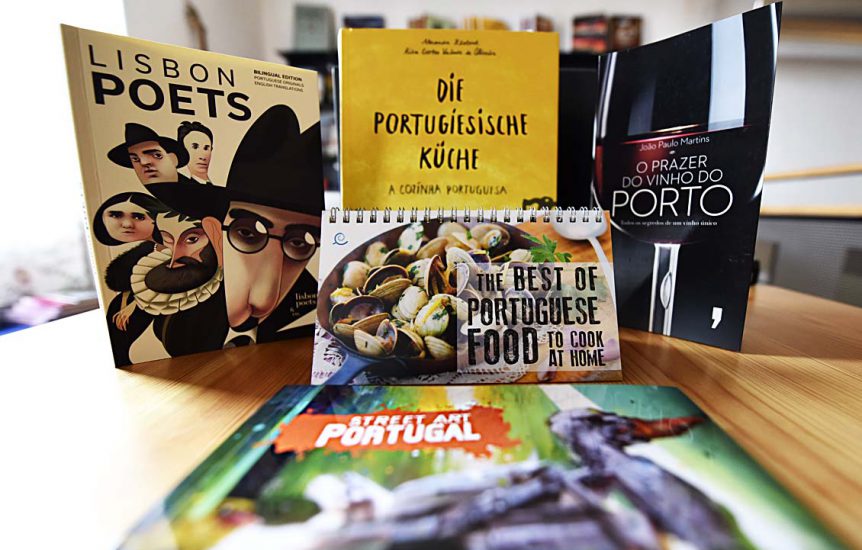 Have you ever heard the expression «Tell me what you read and I'll tell you who you are»? Have you ever wondered which books jump off the shelves most in Mar d'Estórias?
If the truth be told a Portuguese project that covers such a diverse and international audience, should be able to offer an extremely careful and thorough selection. And this raises, among other issues, the importance of the translator, whose role is more than writing – they read, incorporate and then re-write. Can you imagine the work involved in translating certain books, for example the ""Book of the Disquiet" by the poet Fernando Pessoa. However, having said that many works of Portuguese literature are now available and accessible to a far reaching international audience.
In this article we list the books sold most in Mar d'Estórias, which may prove that our greatest literature consumers are our foreign customers, and that, among these foreigners, there is a tendency to go for books with food and wines themes. After all, eating and drinking is not just about filling the belly; it's about recognising the "ingredients" behind the recipes and other details.
1 – "Die Portugiesiche Küche"
Kunstmann
It was the goodness and simplicity of Portuguese food that awakened the curiosity of the German native, Alexandra Klobouk, one of the two authors of this wonderful book about "Portuguese Cuisine". It was after moving to Lisbon that she began to understand the essence of Portuguese food and how, from simple ingredients, great recipes could be created. Considering "the best form of cultural exchange is the act of cooking", together with the Portuguese author, Rita Cortes Valente de Oliveira, Alexandra put together this book "Die Portugiesiche Küche", ("The Portuguese Kitchen"), edited by "Kunstmann", which brings together the most exciting information relating to Portuguese cuisine, with photos and illustrations that speak for themselves.
Authors: Alexandra Klobouk, Rita Cortes Valente de Oliveira
Illustration: Alexandra Klobouk
Art Direction and Graphic Design: Eva Gonçalves
Photography: Mariana Veloso, Ricardo Pereira
Retail Selling Price: 29,95€
2 – "The best of Portuguese Food to cook at home"
Zest – Books for Life
This is not only a book, but also a calendar, enabling you to check the day of the month while accessing some of the best Portuguese recipes. Moreover, this book also provides the very best wine selection available, provided by the most well-known sommeliers of Portugal, and which one is ideal to serve with each dish.
It is the ideal format to take with you as a gift, or a souvenir. Not only can you use it as your calendar, but, best of all, it has 20 of the best Portuguese recipes. This book/calendar is also available in English and French versions.
Authors: Nuno Seabra Lopes e Duarte Cardoso
Editor: Raquel Mouta
Retail Selling Price: 6,50€
3 – "Lisbon Poets" & Co
Lisbon Poets & Co
This provides an excellent opportunity to read works of the most brilliant poets of the iconic Portuguese capital city – Lisbon. It includes authors of timeless epics such as "Mensagem" and "Lusiadas" – Fernando Pessoa and Luís de Camões – as well as the memorable Florbela Espanca, Cesário Verde and Mário de Sá Carneiro.
This edition is available both in Portuguese and English and allows poetry lovers, as well as those curious about of the charms of Lisbon, to get lost in the lines of poetic thought of some of the most epic Portuguese poets.
Translation: Austen Hyde e Martin d'Evelin
Illustration: André Carrilho
Retail Selling Price: 15,00€
4 – "Street Art Portugal", best of 2014
Zest – Books for Life
From the murals of Portuguese cities straight to the pages of this book it brings together the best of inner-city street art in 2014. This is the biggest book dedicated to the street art within cities from the north to the south of Portugal.
Not only does this book allow readers to delve into the inner-city art scene while perusing the city murals from the north to the south of Portugal, it also offers the reader a better understanding of how these works developed. It also identifies those who are, after all, the artists behind these great works of art, which are the source of so much admiration from on-lookers.
Retail Selling Price: 12,00€
5 – "The pleasure of Port wine"
Livros D'Hoje
In this book, João Paulo Martins offers the readers a chance to understand some of the «300 year long history of Port wine, its production methods, the varieties, and the rules of Designation of Origin». But, more importantly, it refers to the various types of Port wine, the best time to drink each of these types, and which ones should or should not be preserved (…) ".
This is a reprint of the previous and first publication «Everything about Port wine», edited by Dom Quixote (2000), which had the support of the Association  of Wine Port Companies (AEVP)   and whose edition was available in four different versions (Portuguese, English, French and Spanish). The need to update some of the information and facts, and certain aesthetic and logistical details, led the author to come up with this new edition, "The pleasure of Port Wine". It is available in Portuguese and English and is intended as a guide for this much appreciated drink, to allow its enthusiasts to learn even more about it and appreciate it (even) more.
Author: João Paulo Martins
Retail Selling Price: 14,40€