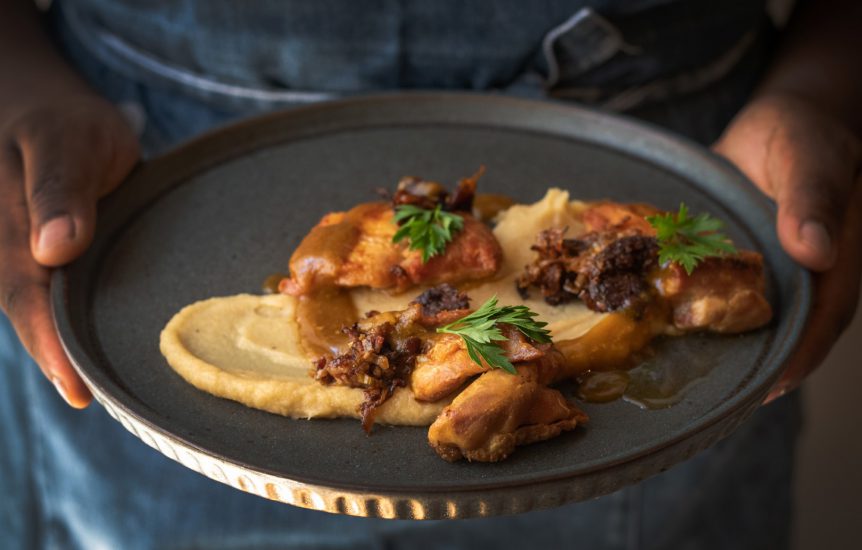 Gather your friends on the terrace of Mar d'Estórias and watch the stars while enjoying delicious Portuguese cuisine.
The warm nights in the Algarve are spent on the terrace of Mar d'Estórias, reminiscent of the old days when families would gather on the "açoteias" (typical Algarve terraces) to enjoy the starry nights. In Lagos, overlooking the historic city centre, the hottest season offers the opportunity to sit around a Portuguese table with friends and family.
Portuguese gastronomy will be the brightest star!
When you step onto the Terrace of Mar d'Estórias, you can embark on a taste journey where traditional Portuguese recipes are reinterpreted with seasonal ingredients, locally sourced.
This is the perfect stage to sample the special summer dishes prepared by chef Megan Melling, who has been dedicated to Portuguese cuisine for several years. The Special Dinner menu features dishes that reinterpret Portuguese cuisine, such as the Algarvian Falafels, which combine local carito beans (from Aljezur), carrot purée and a fresh herb salad. The second dish features an ingredient that everyone knows: codfish! Served two ways, this confit codfish with a toasted cornmeal topping served with sautéed asparagus, a traditional bread stuffing with cilantro (typical side dish from Alentejo) or stewed creamy chickpeas (as a gluten-free option). The third suggestion, for the Special Dinners menu, is the chef's special dish that has been on the menu since 2018 but has gained many perfecting upgrades: The Galinha Cerejada. This reinterpretation of a typical Algarvian dish (crispy fried chicken thighs) is served with celeriac purée, Iberian pork chorizo and roasted chicken sauce, accompanied by French fries or a fresh salad. The Special Dinner Menu is available throughout the summer season.
Book a table at the Terrace Bar at +351 282 792 165 or cafe.bistro@mardestorias.com
In addition to the special dinner menu, there is a regular menu that pays homage to Portugal's culinary heritage with a twist. Each dish tells a story, and everyone is welcome to hear and enjoy it starting from lunchtime. Our regular menu offers a variety of delicious options, including the famous Bifana (pork sandwich), char-grilled tuna sandwich, Alentejo burger (made with Mertolenga beef patties) and fish dishes such as the tuna salad from the Azores with a slightly spicy condiment. For those who prefer veggie options, we have Arjamolho, our Algarvian gazpacho, prepared with tomatoes, cucumbers, peppers, oregano and homemade croutons. Thus, our menu offers a variety of delicious and fresh dishes to suit all tastes.
At the Terrace Bar, you will find a careful selection of Portuguese wines to accompany your meals. From reds to rosés, from south to north, there is always the right wine to pair every dish. To complete the experience, toast with a reinvented cocktail, like our Caipirinha Algarvia with medronho and oranges from the region, or a Madeira Mojito with wine from the island. Algarve craft beer is also served with our snacks.
Portuguese tradition dictates that you sit at the table and enjoy the good life, which means eating, drinking and socialising! This summer, experience the starry nights in the Algarve from the Mar d'Estórias terrace bar.
Check our opening hours at: www.mardestorias.com/en/contacts
* When the weather is not cooperating, meals are served in the Mar d'Estórias bistro area.