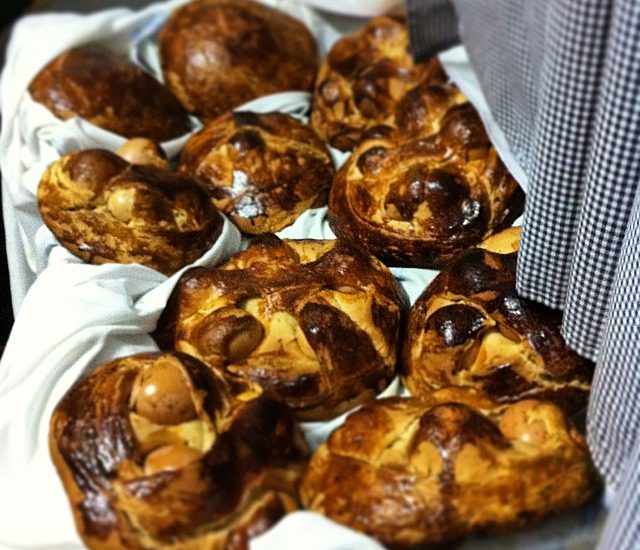 Sweet or Salty Mar d'Estórias does not have a favourite. Which one do you like best?
Easter is a family celebration of sharing, solidarity and socialization, full of symbolic and religious significance. The Portuguese Easter Bread (Folar) is one of the symbols that from North to South has a recipe that is passed from generation to generation and the secret of its confection differs from region to region.
The most traditional Easter Bread is a cake of dry and sweet dough with, at least, one whole encrusted egg (symbol of fertility and rebirth) over which a cross made of dough is placed.
Below we have a list of different Easter Breads from all over Portugal:
North (Trás-os-Montes and Alto Douro)
In contrast to what happens in the rest of the country, above the Douro, in Chaves and Valpaços, there are salty Easter Breads (also called Bola), with meat filling: veal, chicken, rabbit, pork, ham and sausages – cooked within the dough
Central Portugal and Beiras
Here, the Folar is made with cinnamon and anise, garnished with one or several whole boiled eggs. The differences go beyond and are showed in cities as well! For instance, in Covilhã, Easter Bread is called Empenadinhas da Páscoa.
Alentejo
In Elvas, the cakes are made in animal shapes, such as lizards, lambs, chicks or pigeons, being decorated with almonds and the typical boiled eggs. In Castelo de Vide lovers exchange among themselves folares in the form of a double heart.
Algarve
Here the bread is known by Folar de Folhas or Bolo Folar de Olhão. It is created in layers of cinnamon and yellow sugar, lemon and butter that create a caramelized & unique shape. Of all Easter Breads this is, without shadow of a doubt, the sweetest and most aromatic one.
According to tradition, during Christian Easter many children go to their godparents' houses to receive the Folar, which symbolizes reconciliation, unity and friendship.
Did you know: The Catholic Folar is, in the Jewish tradition, known as Huevos de Haman or Foulare which means wrapped.